Interview
Interviews in print media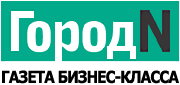 "We knew that it would require professionals with new knowledge who will develop the post-crisis economy"
Chairman of the Board of Directors of the Bank "Centr-invest" Vasily Visokov suggests to create in SFU and RSUE training organizations, where design of economic processes would be taught. According to him, it would be the beginning of the reform of economic education, without which the younger generation will not be able to catch up with the West on level of knowledge. "Centr-invest" has initiated the program "SFU-2020". Within the framework of this program 12 teachers and professors of the Southern Federal University will deliver public lectures on advanced scientific topics, the best lecturers will be rewarded based on the auditors' vote. This year the bank allocated 7 million rubles for educational projects, almost twice as much as in the past. Financial crisis didn't affect this activity!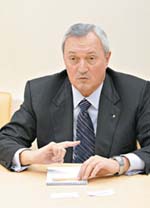 "Expert Ug"
The largest in the SFD bank "Centr-invest" inherited the ability to respond immediately to the situation from its founder, shareholder and chairman of Board of directors Vasilii Vysokov, for whom, however, it is very important not to run ahead the agenda by more than one step.
Сertainly Vysokov corresponds to our conception of how the hero of renewed economy looks. First of all, he is a hero who is not concerned about the survival, but development — in spite of the poor market conditions, which in the case of financial markets were particularly unfavorable. As a result, the whole last year it was difficult to find a banker who would be ready to talk to a journalist seriously — so much was expected from the banks and so little they actually could. And Vasily Visokov, who even before the crisis was a very public man, in a period of turbulence only activated. All the end of the previous year was devoted to the presentation of program "South of Russia against the global crisis," to all strategic audiences, its psychological timeliness, after the fact, is difficult to overestimate.
Video-interviews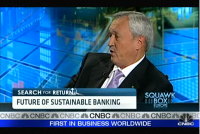 Future of Russian Sustainable Banking
CenterInvest is seen as the top bank for lending to Russian SMEs, Vasily Vysokov, chairman of CenterInvest Bank told CNBC